GET RID ROUNDED BACK AND SAGGY BREAST!
You can't put a price on good posture. Our Bra has been shown to improve posture in 2 weeks!
Provides Permanent Posture Fix
Helps prevent future neck & back pain
Accentuates beautiful natural lift
This incredible bra gives you back support. It features criss-cross X-SHAPES bands to improve your posture.
It features criss-cross design to improve your posture and provide back support.
Ultra-soft seams and wide elastic underbust band let you move freely and stay comfortable no matter what, providing the support you need to work out, play your favorite sports, or do any other activities.
The front hook-and-eye closure on this full-coverage bra makes it convenient.
Soft microfiber, the double-layered cup has just enough stretch for a custom fit, while smoothing out bulges without wires.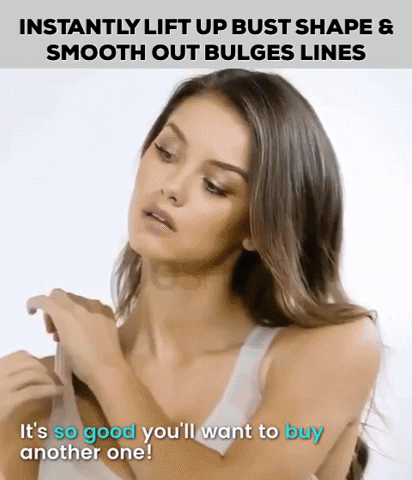 ONE DAY IS COMPOSED OF MANY DIFFERENT MOMENTS!
That's why we made this incredible multifunctional bra just for you.

Features
Natural Breast Lifting:
Instant push up and contouring for saggy, heavy breasts. Instant beautification of breasts shape and contour.
Criss-cross Posture Corrector:
Criss-cross bands provide back support and all-day protection, and eliminate of rounded back, back pain, shoulder pain, etc.
Smooth Out Bulges and Re-define:
No more side breast & bra lines, sizing up your breasts. Smoothing coverage under arms and on back streamlines your silhouette.
Wireless Full Support:
Wide elastic underbust band for all-day, everyday support – all without wires.
Double-layered Cups:
Gives you excellent coverage for a comfortable fit, compressing your bust and giving it a naturally rounded shape.
3-level Adjustable Straps:
Adjustable extra-soft cushioned straps and ultra-flat seams for comfort and relief of shoulder stress.
Easy Front Closure:
6-row, 3-level adjustable front hook closure for easy wear and a perfect fit.

Breathable Hypoallergenic Fabric:
Anti-sweat and moisture wicking ability with eyelet ventilation to keeps you cool and dry.
Perfect for post-surgical, nursing, sports and exercise and everyday wear.
Sizing

If you have any questions please don't hesitate to contact our Customer Care Team at: contact@maxdealstore.net – They'll be happy to help you!
Fequently Asked Questions
Can I have more info about Posture Corrector Bra?
Yes of course! You can watch video reviews about this Bra here or you can Click here and read our blog post about posture corrector bra!
It helps. I think its design makes you aware when you're slouching. Otherwise it is probably the most comfortable bra I have ever worn.
Is this comfortable enough to wear everyday all day?
Yes. I work ten hours a day at a computer and find it very comfortable. Many other bras cause the anxiety of needing to adjust throughout the day. My back has many issues and dome days nothing helps. Have found this to be the best for long term wear.
Can you wash in the washing machine?
Personally I wash them by hand. If you have a washing machine with a delicate cycle and a lingerie bag Should be fine
Where do I select the size?
Just go off of what you normally wear.